ARTICLES ON THE RESEARCH OF MAGNETIC THERAPY
Bracelets&Anklets Rainbow Jewelry Mood Change Jewelry Singles Doubles Triples Native Style Awareness Colors Animals Wraps Necklaces Earrings Magnetic Therapy Non Magnetic Jewelry Natural Stones
OUR GUARANTEE~
We guarantee our quality of material and workmanship... and if at any time your jewelry breaks, just return it to us and we will gladly fix it
Continuously offering Free Shipping to our U.S. Customers
To our International Customers: We can now take your order from here using secure checkout with Pay Pal. thank you.

Follow
Favorite Art Links:
yourartlinks.com
Mood Bead Color Meanings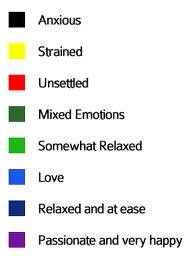 | | |
| --- | --- |
| | All new red line /blue line bracelets are here...for our Police and Firefighters. |
Bracelets and Anklets Triples

These Triple Bracelets/Anklets can be all black Magnetite or they can be accented with Rainbow colored Magnetite Beads

Your choice of Rainbow or Black accent beads

Bracelet $22.00

Anklet $24.00

These are some of the Bracelets and Anklets we make. The Clasps used are a very strong magnet along with Magnetite Magnetic Beads and Natural Stone Beads. I use a nylon monofilament abrasion resistant line for stringing. They come in many sizes to fit your needs.

The Stretch Bracelets use a stretch cord without a clasp (one size fits all), they are about 7 to 7 1/2 inches long but stretch out to fit larger.

Sizing is Important, Heres How.... ~Measure your wrist or ankle, then add a half inch to get the exact size you need to order. Any questions or doubt, please email us before ordering. spir2its@hotmail.com

FREE SHIPPING

AWARENESS COLORS go to page for more colors
Anklet $26
THIN RED LINE ~ THIN BLUE LINE

POLICE ~ FIRE & RESCUE

THIS ONES FOR YOU.....

We are happy to be able to provide pain relief to Fire & Rescue and Servicemen of the Police Forces in their colors.

All New shimmering Metallic Beads fill up the space between these triple Magnetite Spacers very nicely. They are rally much more fascinating in person than I was able to get on Camera...too shimmery to catch I guess.

color choices from left to right Dark Green Iris~Green Opal~Green Iris~Khaki Iris~Bronze~Cobalt~Pink~Blue Topaz

Bracelet $22.00

Anklet $24.00
w/clasp

Your choice of Blue or Orange accent beads

Bracelet $22.00

Anklet $24.00

Made with small drum beads

Bracelet $22.00

Anklet $24.00
all available in different sizes
Download Our Magnetic-Therapy-Brochure-pdf-file
Read About THE IMPORTANCE OF MAGNETIC THERAPY
MAGNETIC THERAPY ARTICLES from the leading Magnetic Health Authors on the subject. Please browse down the extensive list containing information and therapy suggestions for many of the common ailments, injuries and other health problems that effect us all every day.
This site was last updated 12/09/12